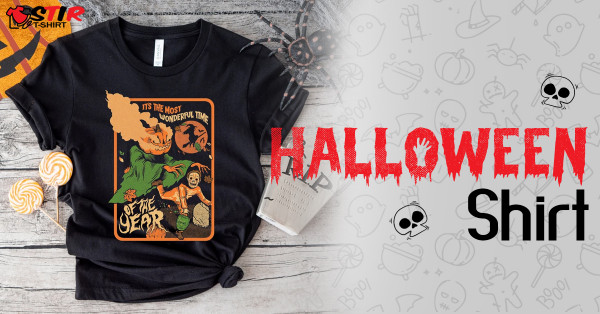 Claymont, Delaware, United States, 25th Sep 2022 – StirTshirt has launched a great selection of Halloween Shirts in the latest expansion on the upcoming event of Halloween. As many people share the same idea, StirTshirt, being a proficient clothing manufacturer, has been working on it to give Halloween enthusiasts specific items. 
Their newly developed Halloween Shirt is a collection of diversified ideas. According to the StirTshirt, choosing an iconic symbol is key to designing a Halloween shirt. Hence, depending on its client's preference, the best item for them may be different from the others. But in general, people love these themes for Halloween. The Halloween Shirts by StirTshirts include the following themes:
1 . Horror movies or books
StirTshirts has manufactured T-shirts based on horror movies and books. Characters from horror look obsessive and terrifying. People don't need to add details because they already have a Halloween vibe on their shirts. 
2 . Magic
Magic is always one of the most liked Halloween themes, so StirTshirts has used it widely. Magical beings and spells abound this time of year, evoking excitement in youngsters and adults. The potential for creativity in the realm of magic is limitless. After getting the mysterious witchy T-shirt, people can design their trousers to finish their magical look with StirTshirt's new collection. Users can add accessories like a broom, hat, or eerie makeup to match the top.
3 . Bats and cats
The designers of StirTshirts have also used bats and cats to design the shirts; people can still achieve a mysterious and graceful impression. In many cultures, black cats symbolize a terrible omen. They are also magical familiars of evil witches. Meanwhile, people relate bats to vampires-another iconic Halloween concept. StirTshirts Halloween Shirts serve the purpose well.
4 . Ghosts
StirTshirts uses its expansive imagination to craft ghostly clothing for its customers-based Ghosts theme. They can make ghostly people, animals, or famous characters for the Halloween ghost theme. Clients can be creative to make them whimsical, cute, frightening, and nightmarish. 
5 . Nightly creatures 
Halloween celebrations have always involved vampires, wolves, and other nocturnal creatures. StirTshirts designs a Halloween shirt using these toothy demons as the inspiration. The company uses numerous nighttime monsters that inspire its clients' drawings. For instance, chupacabras would look horrifying on T-shirts. Despite not being nightly animals, spiders can be a good idea. 
In addition, apart from designs, StirTshirt's main forte is to focus on its material. It provides Cotton's flexibility, affordability, smoothness, and wide availability. People feel comfortable for hours thanks to the smooth and breathable fabrics they wear right close to their skin, manufactured by StirTshirts. Moreover, it uses Cotton, which works well with printing ink, making it the most common choice for Halloween shirts. For other options, there are linen, polyester, and blended fabrics.
Intending buyers can browse the company's selection and find their perfect costume. There is 1000+ Best Halloween Shirt for men and women – Halloween T-Shirt at StirTshirt. The products of StirTshirts are available in Local shops and Online retailers. 
About StirTshirt
StirTshirt is a recently established clothing company launched in 2022. It thrives on making its customers satisfied with comfortable t-shirts. The main headquarter of the company is located in Singapore. It is known for generating professional and unique designs formulated by arts and graphic design experts. 
Potential customers can visit the following links to shop for their exclusive products or further information about the company.
Twitter | Flickr | Ello | Gab | Blog
Media Contact
Organization: StirTshirt
Contact Person: Nguyen Hai
Email: [email protected]
Phone: 1(856)942-8527
Website: https://stirtshirt.com/
Address 1: 2974 Mansion Ave, Claymont, DE 19703, United States
City: Claymont
State: Delaware
Country: United States
The post StirTshirt launches a new collection of exclusive Halloween Shirts. appeared first on King Newswire.
Information contained on this page is provided by an independent third-party content provider. Binary News Network and this site make no warranties or representations in connection therewith. If you are affiliated with this page and would like it removed please contact [email protected]