Lancaster, Pennsylvania, United States, 20th Jul 2022,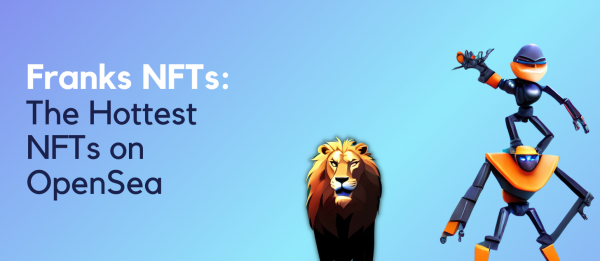 Source: opensea.io/franksnfts
NFTs or Non-Fungible Tokens have taken the Internet by storm as they continue to explode in popularity among art collectors and crypto investors. These are cryptographic tokens that may be used to represent the ownership of unique goods. We can tokenize items like works of art, valuables, and even real estate thanks to them. They are protected by the Ethereum blockchain and can only have single legitimate ownership at a time; nobody can change the ownership record or create a new NFT by copying and pasting an existing one.
In contrast to cryptocurrency tokens such as USDT or DAI, NFTs are fully unique and cannot be divided, making them distinct from ERC-20 tokens. NFTs enable the assignment or claim of ownership of any piece of trackable digital data, utilizing the Ethereum blockchain as a public ledger. An NFT is created using digital objects to represent assets, whether they are digital or not.
In the technology arena, digital tokens are nothing new. In essence, NFTs only gained international recognition when digital artist Beeple auctioned off his artwork at a Christie's auction in March 2021. Popular figures like Twitter CEO Jack Dorsey and Elon Musk have also shown support for NFTs.
The NFT's market level of attention and buzz is an intangible characteristic that is often overlooked. The cryptocurrency market now is in a completely different situation than it was during the 2018 crypto winter thanks to the exposure that the blockchain sector gets through NFTs. The industry at the time had disturbingly low levels of participation and interest. The NFT market contrasts with the mainstream media, which consistently predicts that the NFT bubble will burst anytime soon. 
According to data from NFT market data aggregator CryptoSlam, NFT revenues reached to US$18.5 billion in 2021, a 570-fold growth from 2020, as the record offer for Beeple's digital collage and the positive response for NBA Top Shot attracted more collectors and boosted prices.
According to estimates from February 2022, the global market for new NFTs is expected to expand to at least $30 billion dollars this year, with monthly sales already exceeding US$2.5 billion. Given the estimated 200 % to 300 % increase in buyer volume, CryptoSlam forecasts a 50 % to 70 % increase in sales volume in 2022.
In May 2022, the NFT market generated $3.7 billion, a 20 percent decrease compared to April.
While trade volumes recorded in USD seem to imply that the market is declining at first look, examining marketplace volumes in their native tokens tells a different tale.
For example, OpenSea, the industry's biggest NFT platform, produced 950,000 ETH in trade volume in May, a decrease of just 6.5% from April. Given that changes in the price of ETH have a weighted impact on the measures, the volumes in USD provide a different perspective. OpenSea's trading volume in US dollars declined by 25% month-over-month. When comparing both viewpoints, there is an 18.5 percent variance between the USD and ETH quantities.
While volatility is common in the NFT and crypto market, daily trading on OpenSea has only increased which is benefitting investors and collectors. In this article, we bring you the hottest NFT collections on OpenSea right now. Let's learn about the Franks NFTs and their unique dynamics. 
What is Franks NFTs?
FranksNFTs are multiple collections of very exciting art NFTs. These NFTs are a total of 21 in number (at time of writing – 7/16/2022). They are all unique from one another or any other Non-Fungible Tokens available on the OpenSea platform. There are two different collections. The first is called "The Lion Story Collection" and the second is known as the "Life of Ninja Robot". Let us look at both these NFT collections separately. 
The Lion Story NFT Collection:
The Lion Story NFT collection currently offers 9 different lion-themed NFTs with a floor price of 0.05 ETH ($54.29) (at time of writing – 7/16/2022). Each NFT in this collection has a unique digitally drawn lion inspired by the Lion Story. The Lions come in different colors and types. There is 3D lion NFTs that have a very realistic appearance and surreal looks. These 3D lions have colored and grayscale Non-Fungible Tokens. The other types are vector and cantonized. These types have multiple colors and even silhouette NFTs of the digitally drawn lions. 
Media Contact
Organization: FranksNFTs
Contact Person: Media Relations
Email: Send Email
State: Pennsylvania
City: Lancaster
Country: United States
Website: https://twitter.com/franksnfts
The post Franks NFTs – The Hottest NFTs on OpenSea appeared first on King Newswire.
Information contained on this page is provided by an independent third-party content provider. Binary News Network and this site make no warranties or representations in connection therewith. If you are affiliated with this page and would like it removed please contact [email protected]