September 21, 2020
(Women of Color International Association Founder, Elissa J. Granger, recently received 300 3-ply disposable face masks donated by CovCare for "PPE Care Kits" distributed by the St. Mary's Academy Girls Basketball team as a way to protect her native South Central community during the Coronavirus pandemic.)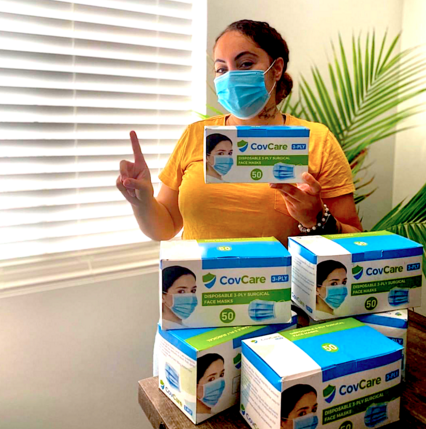 United States, September 21, 2020, ZEXPRWIRE, The journey through the global pandemic over the last seven months for everyone at Wooter Apparel really has come full circle after the sports world came to a screeching halt back in early March.
Not only did the customized sports apparel company based in Staten Island, New York survive a business shutdown and having to lay-off staff members during a world crisis, but they also thrived by pivoting their business strategy to include partnering with protective sports gear company, GameBreaker to launch CovCare. The immediate goal from the jump for this medical supplies and logistics start-up was to solve the mass shortage of face masks and Personal Protective Equipment (PPE) across the United States in order to help protect healthcare professionals and essential workers who were on the frontlines fighting (and working through) the Coronavirus pandemic. By working closely with manufacturers overseas during the Spring, CovCare was able to safely ship large quantities of FDA approved masks and PPE to New York and really begin making a difference during the onset of COVID-19.
Being able to protect nurses, doctors, first responders, teachers, coaches, and those working in community organizations has served as a timely reminder that flattening the curve and saving lives still impacts our society across the board today, just as much as it did then. Over the course of the Summer months, the need for affordable and quality PPE has become crucial for continuing to combat the Coronavirus. One thing is for sure: hospitals still need help protecting people and staying protected themselves in their line of work.
"The biggest challenge is having the supplies needed to care safely for these patients and help with patient care. It is a very difficult situation being a nurse, respiratory therapist, nurse assistant, lab tech, dietary, transporter for testing or a housekeeper," said Rose Mucci , who serves as a Nursing Lecturer and Staff RN at Mercy Health and Youngstown State in Youngstown, Ohio.
"This company (CovCare) has been a lifesaver for me to ensure I have clean fresh face coverings during this time. The hospital did not have the equipment available at first, so we had to recycle masks which are supposed to be cleaned and then given back to us. At 65-years old, I don't want to wear someone else's mask. I order my own masks (N-95), face shields, and paper masks to wear on the unit to ensure I have what is necessary."
As hospitals continue to brace for the upcoming flu season and the threat of Coronavirus cases surging once again, more and more people are stepping up to the challenge on a local level by offering more PPE protection within their own communities. It's the perfect blend of grassroots  generosity and drive to give back that keeps Covcare working with hospitals like Staten Island University Hospital, Mount Sinai, Montefiore, Houston Methodist, Arbuckle Hospital and non-profit organizations including Rideshare Drivers United in San Francisco, Companions Journeying Together, and the Women of Color International Association, among others.
Tucked away on Grace Avenue in Inglewood, California sits St. Mary's Academy, an all-girls school  that has served as a beacon within education and service in South Central Los Angeles for the past 131 years. So it's only fitting that during a global pandemic, it's the St. Mary's Girls Basketball team that has risen to the occasion of community outreach. Just as the school's historic mission statement notes, these girls displayed a major commitment to "serving their dear neighbor" by working alongside the Women of Color International Association to distribute PPE care kits around Inglewood. A non-profit organization founded by South Central native Elissa J. Granger, the Women of Color International Association (WOCIA) focuses on empowering the lives and communities of women of Color through STEM, arts, athletics, entrepreneurship, physical, mental and emotional support resources.
Their goal with organizing the distribution of PPE care packs was to provide protection kits in an effort to stop the spread of COVID-19 throughout South Central and keep communities safe. WOCIA turned to St. Mary's Academy Girls Basketball to lend a helping hand by providing a safe area to distribute the PPE care kit giveaways, with CovCare donating over 300 3-ply disposable face masks for the on-going community outreach events.
"My goal has always been to share light, positivity, and help people progress with this recent event focused on providing PPE Covid-19 Care Kits to local youth and community members in South Central Los Angeles and Inglewood, California," said Granger, who started-up WOCIA during the Coronavirus pandemic.
"Too many of our communities go unnoticed and fall beyond the radar of positive impact."
In the end, it's the St. Mary's Belles and organizations like the Women of Color International Association who are dishing out a big assist this basketball season by making sure everyone in their community is safe and covered.
Information contained on this page is provided by an independent third-party content provider. Binary News Network and this Site make no warranties or representations in connection therewith. If you are affiliated with this page and would like it removed please contact [email protected]